It's an anagram - if you rearrange the letters to the venerable retailer, you get USPS.
OK, obviously not. But, based on my experience, they do have a lot in common.
Owing to frustration with a string trimmer (I've replaced the carb, and rebuilt it twice), I've been looking for a dedicated edger, mainly on Craigslist. I like the McLane, as well as some of the Craftsman models. Unfortunately, I haven't found just what I'm looking for.
So recently on lunch I decided to go to a Sears Outlet that features power lawn & garden tools. No edgers on display, but a clerk asks if he can help.
"Sure, looking for a gas edger - not the string trimmer kind."
"Oh, we just got a couple in. Let me check."
After five minutes he returns with a dolly and a NIB edger, no visible transit damage. He opens the box, and it's pretty much what I'm looking for. 158cc B&S 550 engine, four wheels, trenching option (for burying LV cable, I suppose). (Digression: I've taken the Myers-Briggs & Stratton test probably close to a dozen times and still don't know what I want to be when I grow up.)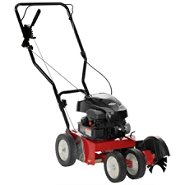 "How much is it?" I ask. He looks at me as though the question caught him by surprise.
For the next ten or twelve minutes, the clerk, another clerk, and their supervisor (who really could've been mistaken for a postal employee) try to find a price for this boxed and labeled piece of equipment. Actually I think their data connection failed when the telephone handset broke in two trying to insert it into the 150 baud modem acoustic coupler. Finally, they announced a price, clarifying that it was in dollars. Dang, all I had on me were
yuan
!
It didn't seem out of line, but since I wanted to check it vis-à-vis the regular retail store price (turns out it's about $80 less), I thanked the clerk and returned to work.
While the crack staff were summoning the pricing wizards, I'd spent some time walking around the showroom, checking out this and that power tool. As a little kid, many hours were spent in Sears stores, which in those days were bustling places. Later, I can recall shopping at the Sears outlets in Grand Prairie, Hampton & Illinois in Dallas, and on Denton Highway in Haltom City, and back in the day you could score some reasonably good bargains on scratch-n-dent or refurb merchandise. But today's SR & Co. seems to have the same mindset as Radio Shack ("
You've got questions - we've got blank expressions
!"), offering unremarkable goods at a slight premium, coupled with uninspired service. With todays category-killer big box stores, as well as online retailers, it amounts to, as the Wharton MBAs say: a lose-lose proposition.
So, at this point I think I'll pursue a Craigslist entry - after all, the guy already has a price in mind.